Click On a County Below To Begin Your Search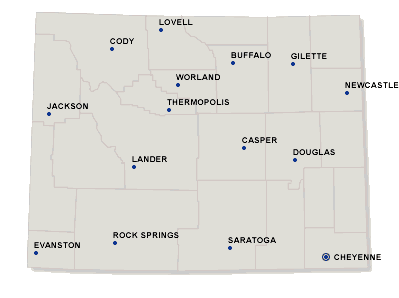 Buy Wyoming Foreclosure Listings
Wyoming has more than a few homes on foreclosure listings. Wyoming is a very business friendly state. If you were interested in starting a business or just buying a home here the bank foreclosures in Wyoming is an excellent resource. Known to all as "the home of the last American cowboy" and the equality state, since this the first state that actually gave women the right to vote, it boast a great history and stars a wide variety of cowboy folk tales. Buying some property in Wyoming will almost invariably be ranch lands as cattle and horses are the predominate agriculture in the state.
Wyoming Foreclosure listings in Cheyenne are numbering between 600-1000 and rising. One of Wyoming most popular cities this upscale city has a lot to offer the prospective homeowner. Cheyenne is the capital of Wyoming and began as a frontier rail town. It was made one of the wealthiest cities in the world because of the cattle industry there in the old days. The city has managed to maintain its frontier traditions and keep up with the 21st century demands. To this day it is still a railroad and livestock community. It is also a desirable place to live for its clean air ratings and quality of life.
Foreclosure1.com the #1 foreclosure listings service provides the most up-to-date Wyoming foreclosure listings, government foreclosures and Wyoming bank foreclosures. Try our foreclosure list service and find the best Wyoming foreclosures. Join Now for the latest Wyoming foreclosure listings.