Click On a County Below To Begin Your Search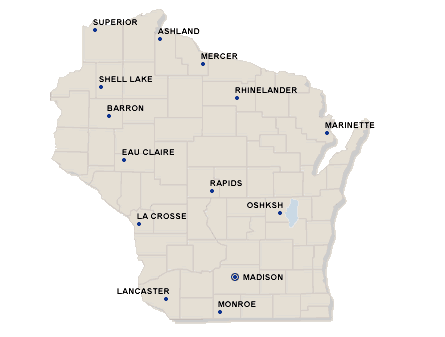 Buy Wisconsin Foreclosure Listings
With over 2500 homes on Wisconsin foreclosure listings "The Badger State" is an investor's dream come true. Owning a piece of the land famous for its dairy products, are easier if you shop bank foreclosures and HUD listings before you buy. You can find like new homes readily available at rock bottom prices. An investor or homebuyer can make out like a bandit here. The benefits of buying Wisconsin properties on foreclosure listings are numerous. The school systems are continuously rating highly in the ACT test. And Wisconsin boasts one of the nation's lowest unemployment rates. Most of the state is sprawling plains and lush farmland. It also offers variety in recreational choices as well a lot of cultural activities.
In Milwaukee one of the more densely populated cities in Wisconsin there are lots of foreclosure listings in all different types of neighborhoods. Home of the world famous "Harley Davidson" factory and still enough breweries to retain its label of "Brew City" it is a college town that offers something for everyone. By shopping for a home on bank foreclosures you can get a great home in a good neighborhood for a lot less than market value. The NBA's Bucks and the MLB Brewers are proud to make their home in Milwaukee and you can be too. Over 12,000 Milwaukee area properties are currently on foreclosure listings. In ever socio-economic neighborhood you can find bargains galore.
Foreclosure1.com the #1 foreclosure listings service provides the most up-to-date Wisconsin foreclosure listings, government foreclosures and Wisconsin bank foreclosures. Try our foreclosure list service and find the best Wisconsin foreclosures. Join Now for the latest Wisconsin foreclosure listings.