Click On a County Below To Begin Your Search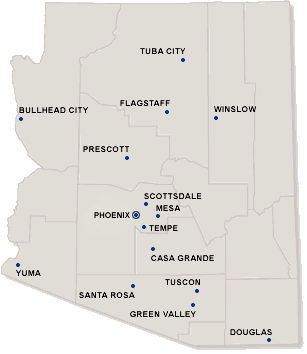 Buy Arizona Foreclosure Listings
Phoenix is the home of the Suns basketball franchise and has warm weather year-round which makes it one of the more desirable spots to live. The Arizona foreclosure listings are getting crowded and the homes are being discounted to sell. This makes most of Arizona's cities prime targets for real estate investors.
Foreclosure listings in Phoenix, Mesa, Tucson, Glendale, Gilbert and Scottsdale, as well as the rest of Arizona, are expected to rise since Arizona's rate of unemployment has prevented it from getting any of the Federal government's homeowner bailout funding this year. In June of 2010 the unemployment rate was 9.6 % putting it in the top ten in unemployment rates. With these numbers it is a sure bet that bank foreclosure listings are going to get a lot higher.
It is possible to get a single family home in the Mesa market that is easily worth $2.5 billion for as little as $981,000. This is an actual listing. It is a 4 br, 3 1/2 bath, 5,012 square foot home and it is available for a steal. House hunters: this is the place to be. Arizona has great properties, great scenery and beautiful weather year-round. Who wouldn't want that?
Foreclosure1.com the #1 foreclosure listings service provides the most up-to-date Arizona foreclosure listings, government foreclosures and Arizona bank foreclosures. Try our foreclosure list service and find the best Arizona foreclosures. Join Now for the latest Arizona foreclosure listings.