Click On a County Below To Begin Your Search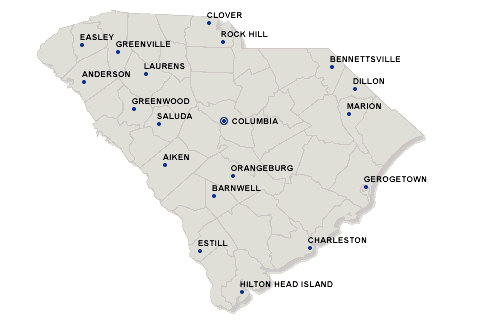 South Carolina Top Counties
Buy South Carolina Foreclosure Listings
South Carolina may not have as many foreclosure listings as its neighbors, but they are priced to move. There are over 8,000 homes featured on foreclosure.com for this state. The South Carolina foreclosure listings for cities upstate are few, but the persistent buyer can find bargains in most cities. The latest estimates put the total bank foreclosures in South Carolina well above 22,000.
The most reasonable auction prices are to be found in Anderson and Greenville. These cities have a lot of attractions and are great places to raise a family. Bank foreclosure listings in these two cities are on the rise. Single family units are being listed for as little as $87,000. You can save up to 40% off the market value if you compare foreclosure listings.
It is now possible to save more than 20% on homes in beautiful Myrtle Beach. A haven for tourists during the summer months, Myrtle Beach has some of the most scenic and sought-after properties in South Carolina. The meridian price for a home in Myrtle Beach is well over $200,000 but there are bank foreclosure listings of these homes at 25-40% of their value. Fantastic properties close to one of the greatest beaches in North America can be yours at a price that is almost sinful.
Foreclosure listings in Columbia, South Carolina as reported by RealtyTrac have reached 4,000 homes. They are listing homes that sell for $150,000 –250,000, or for as low as $77,000. Foreclosure listings for other realtors are just as low. Bank foreclosures in South Carolina are going fast. It is a house hunter's market, and taking your pick of the offerings in South Carolina will not even hurt. Shop online or contact a local realtor for the latest foreclosure listings in the areas that interest you.
Foreclosure1.com the #1 foreclosure listings service provides the most up-to-date South Carolina foreclosure listings, government foreclosures and South Carolina bank foreclosures. Try our foreclosure list service and find the best South Carolina foreclosures. Join Now for the latest South Carolina foreclosure listings.