Click On a County Below To Begin Your Search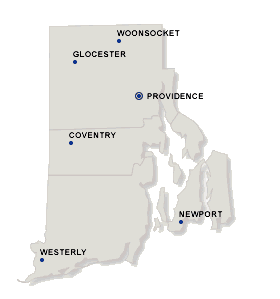 Rhode Island Top Counties
Buy Rhode Island Foreclosure Listings
Rhode Island is one of the states that was hit by foreclosure crisis but in the last few months the crisis has eased. The percentage of those who are not paying their mortgages and those who have foreclosed on their homes has dropped slightly compared to the first few months of the year. Bank foreclosures in Rhode Island are better compared to last year. Ten percent of mortgage holders are behind on their payments. Foreclosure listings in Providence are also rising because there 1 out 30 mortgages were not paid. There are experts who are predicting the rise in foreclosure is just around the corner.
Bank foreclosures in Warwick and other cities are rising steadily because of factors. Compared to last year, there are borrowers who are having problems with payments because of several reasons like unemployment and unexpected financial crisis. The home values of single unit homes in the state fell over about 34 percent. The median sales price for average homes is $227,500 which higher compared to last year. Also condo units and family style houses also fell in terms of value. Based on the data, Rhode Island foreclosure listing is recovering and long term changes for improvement is on its way.
Foreclosure1.com the #1 foreclosure listings service provides the most up-to-date Rhode Island foreclosure listings, government foreclosures and Rhode Island bank foreclosures. Try our foreclosure list service and find the best Rhode Island foreclosures. Join Now for the latest Rhode Island foreclosure listings.