Click On a County Below To Begin Your Search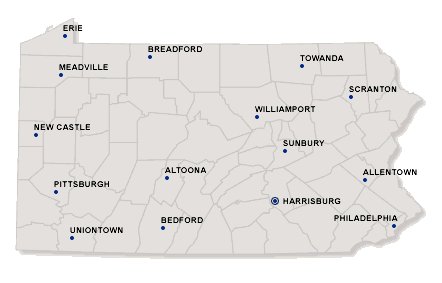 Pennsylvania Top Counties
Buy Pennsylvania Foreclosure Listings
The collapse of bank foreclosures in Pennsylvania is due to the subprime mortgage crisis that is felt by the real estate market. At the end of second quarter, the Pennsylvania foreclosure listings have risen tremendously. There are many families who are unable to pay mortgage obligations for several reasons. Based on the recent surveys, unemployment and medical bills are the two reasons leading to foreclosure. There are over five hundred families losing their homes due to this problem. There are people who had their income cut and some lose their jobs. There are also medical bills that serve as a threat for financial securely.
Bank foreclosures in Philadelphia are tied up with the market conditions and employment. Also the foreclosure laws in the state are somewhat strict. The government is launching several programs that can help people in their repayment options. Usually there are federal loans for resident of the state. There are also educational resources and other resources so that people will not default their loan repayment. Most properties are being auctioned in the state. This is perhaps the best way to get the lowest and affordable homes. The neighborhoods in the region are suburban perfect for starting and small families.
Foreclosure1.com the #1 foreclosure listings service provides the most up-to-date Pennsylvania foreclosure listings, government foreclosures and Pennsylvania bank foreclosures. Try our foreclosure list service and find the best Pennsylvania foreclosures. Join Now for the latest Pennsylvania foreclosure listings.