Click On a County Below To Begin Your Search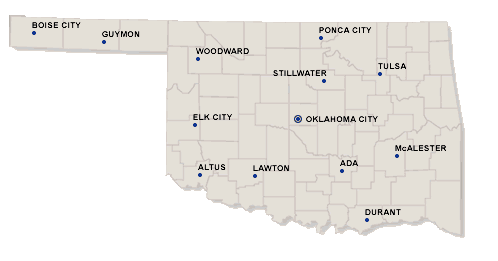 Buy Oklahoma Foreclosure Listings
Recently the bank foreclosures in Oklahoma went down significantly. The list of foreclosure is just over a thousand properties, which shows improvement in the data compared to the last months. This has made Oklahoma garner the 29th spot when it comes to foreclosure rate. Due to the economic crisis felt by the whole country, foreclosure listings in Oklahoma were affected. However the number of Oklahoma foreclosure listings keeps on rising. This is because of several factors like less loans and refinancing options being issued by lending firms. Credit standards are actually so tight that people are having problems when it comes to mortgage payments.
In the cities of Tulsa and Lawton bank foreclosures, the rate is steadily increasing for three straight months making it impossible to tell if the situation would hit a plateau. The foreclosure notices were down at the start of the year but continue to rise, hitting double digit figures. Overall the state is offering better housing options with some fantastic older properties. There are some properties as old as the city itself. You can find homes that are near the hospitals, schools and shopping centers. The state is ideal for relocation as you can find different major attractions and other events. If you want a quite urban lifestyle, you can find a property that costs around $135,000.
Foreclosure1.com the #1 foreclosure listings service provides the most up-to-date Oklahoma foreclosure listings, government foreclosures and Oklahoma bank foreclosures. Try our foreclosure list service and find the best Oklahoma foreclosures. Join Now for the latest Oklahoma foreclosure listings.