Click On a County Below To Begin Your Search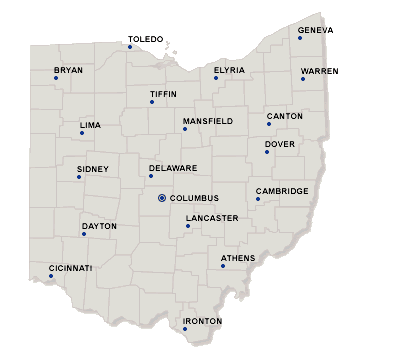 Buy Ohio Foreclosure Listings
Ohio has had a rough few years with over 20,000 or more homes on the Ohio foreclosure listings. Cleveland alone has foreclosure listings well over 8,600 homes on bank foreclosure listings. Cleveland is home to the Browns football franchise. Other compelling reasons to live in Cleveland are its world-class orchestra, beautiful museums and quality medical care. Right on the shores of the fantastically beautiful Lake Erie are some affordable new homes. The best buy in this city is on the bank foreclosures. Some of these homes are listed as low as $24,000 for a 4/2 unit. Even in the more upscale neighborhoods, homes are being auctioned at great percentages below market value. It is a great time to find out why "Cleveland rocks."
Cincinnati's foreclosure listings are closer to 10,000 and they are still rising. This number came from only one realty website; there are sure to be other listings with just as staggering a figure. It is possible to purchase a 3 1/2 bath home on beautiful Brookfield DR for as little as $100,000; some even less. Over on Rockford Place the going rate is $49,000, this is practically stealing a home. There are many good reasons to invest in property in Cincinnati. The foreclosure listings are just one of them; living in this city, you can take a lot of mini-vacations. There are riverboat cruises, and it is home to the Newport Aquarium that house exotic sea life from around the globe. Don't forget Coney Island; need we say more?
Toledo is also a great city to find a home from the foreclosure listings. It has the added attractiveness of being a university town as well as a growing art and culture scene. Mosey on over to Columbus; it, too, has great properties at a fraction of what a new home would cost. The city is filled with great neighborhoods, good schools, and solid citizens. Considering a move? Consider Ohio.
Foreclosure1.com the #1 foreclosure listings service provides the most up-to-date Ohio foreclosure listings, government foreclosures and Ohio bank foreclosures. Try our foreclosure list service and find the best Ohio foreclosures. Join Now for the latest Ohio foreclosure listings.