Click On a County Below To Begin Your Search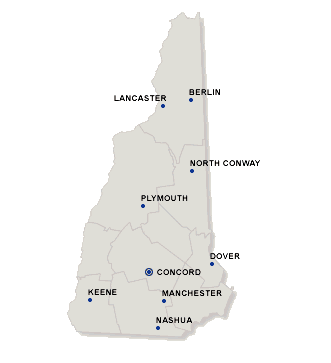 New Hampshire Top Counties
Buy New Hampshire Foreclosure Listings
Although there are reports that the economy is improving, the number of New Hampshire real estate properties is steadily rising. This is true according to the latest New Hampshire foreclosure listings. Based on the records, economic recovery is not seen in this state. In fact Manchester bank foreclosure was hit very hard. Usually the larger towns of Nashua and Berlin have the most populated communities in New Hampshire. There are people moving in as well as moving out. The most alarming of all is the fact that the rates are much higher compared to last year's bank foreclosure listing.
According to New Hampshire Housing Finance Authority, there has been a significant increase year after year. During the first six months, there were over two thousand foreclosures in the market. Based on the reports, there will be no economic turnaround especially in the near future. The research is tracking auction notices given to homeowners. This clearly shows that quite a number of people are falling behind their payments. Bank foreclosures in New Hampshire will continue to be the problem of despite the improvements of economic indicator. In some countries, there is a decrease in property transactions. Even though there is tax credit program for first time home buyers, there is still no effect in the data.
Foreclosure1.com the #1 foreclosure listings service provides the most up-to-date New Hampshire foreclosure listings, government foreclosures and New Hampshire bank foreclosures. Try our foreclosure list service and find the best New Hampshire foreclosures. Join Now for the latest New Hampshire foreclosure listings.