Click On a County Below To Begin Your Search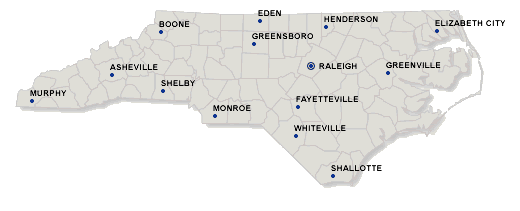 North Carolina Top Counties
Buy North Carolina Foreclosure Listings
North Carolina has an abundance of foreclosure listings. This is one of the most interesting locations in the United States. Families can visit beaches, or go hiking and skiing in the mountains. There are plenty of historical sites for weekend getaways. These features make property in the Carolinas very coveted. Bank foreclosures in North Carolina are showing that these properties can be owned for less than a third of the real market value. If history, beaches and family living are your cup of tea, now is the best time to consider North Carolina.
Charlotte, home of the Crosswinds Family Entertainment Park has foreclosure listings of over 10,000 homes. Some are being auctioned at an unbelievable low price of $54,900. In fact all of Mecklenberg County has bank foreclosure listings of single-family homes that are being practically given away. The median price on a single-family dwelling in Charlotte start at $200,000, and the banks are listing these homes for $124,000 or less. The foreclosure listings are all that way. The price is right if you are looking to invest in Charlotte. Buying now would be the smartest move ever made.
Raleigh and Greensboro are both showing growth on the bank foreclosure listings homes that were bought at 125-250 thousand are being listed for 45% below the market value. Raleigh is the state capital and the homes in and around that city are pretty expensive. Foreclosure listings have more than 2500 homes in Raleigh priced to sell quickly. The beautiful neighborhoods, attractions and great schools make living in Greensboro or Raleigh an attractive idea. Gaston also will offer you a great discount; check out their foreclosure listings as well. A lot of the foreclosure listings are government owned homes, so checking the HOD foreclosure listings will bring even greater values your way.
Foreclosure1.com the #1 foreclosure listings service provides the most up-to-date North Carolina foreclosure listings, government foreclosures and North Carolina bank foreclosures. Try our foreclosure list service and find the best North Carolina foreclosures. Join Now for the latest North Carolina foreclosure listings.