Click On a County Below To Begin Your Search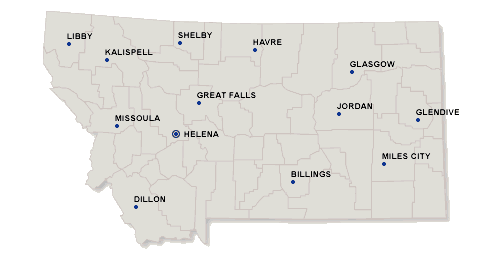 Buy Montana Foreclosure Listings
Montana is not part of the list of states that have received $2 billion fund from the government that would help homeowners who are facing foreclosure. Since this is the case, bank foreclosures in Montana are not certain especially in the coming months. Montana is known for its wide open spaces and for this reason any one can have the advantage of not having neighbors. Properties in Montana foreclosure listings are filled with properties that can be converted to a farm. There are over thousands of billings foreclosure listings as well as Missoula and great falls.
If you want to find solitude, real estate in this state can provide such environment. Since it is near the Canadian border, expect a lot of snow and colder climate. Even if its summer, the evenings can get chilly. The process of foreclosure in this state is rather lenient. Instead of 120 days, the government is offering the homeowner up to 150 days to be notified. In the second quarter of this year, there are over 600 properties that are filed for foreclosure. The home sales have also dropped compared to the national average. Because of the recent data, Montana ranked at 41st in foreclosure rate.
Foreclosure1.com the #1 foreclosure listings service provides the most up-to-date Montana foreclosure listings, government foreclosures and Montana bank foreclosures. Try our foreclosure list service and find the best Montana foreclosures. Join Now for the latest Montana foreclosure listings.