Click On a County Below To Begin Your Search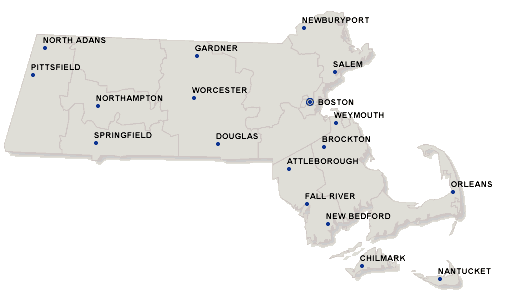 Buy Massachusetts Foreclosure Listings
Massachusetts foreclosure listings are incredibly easy to find on the internet. You can find foreclosed homes throughout Massachusetts. Choosing a foreclosed home works out cheaper than a non-foreclosed home. In fact, you can save up to 45%. You just have to do some homework and shop around.
Worcester, the home of the Higgins Armory Museum and the Worcester Art Museum has bank foreclosures in Massachusetts ranging from $45,000.00 to $199,900. Brockton alones offers over eight hundred bank foreclosures. Here you can get a home for between $89,900.00 and $199,900. Known as the City of Champions, Brockton offers you the Fuller Craft Museum and the Brockton Fair, situated at the Brockton Fair Grounds. In Lynn, you will get a home for between $74,000.00 and $254,900.00. Lynn is known as the City of Firsts, a lot of first things have happened here, two examples include the first tannery in the US and the first Jet engine.
Massachusetts is full of history and any of the towns that you choose will provide you and your family with a sense of security. The schools in Massachusetts are top notch and your kids will benefit. Why not give it a go?
Foreclosure1.com the #1 foreclosure listings service provides the most up-to-date Massachusetts foreclosure listings, government foreclosures and Massachusetts bank foreclosures. Try our foreclosure list service and find the best Massachusetts foreclosures. Join Now for the latest Massachusetts foreclosure listings.