Click On a County Below To Begin Your Search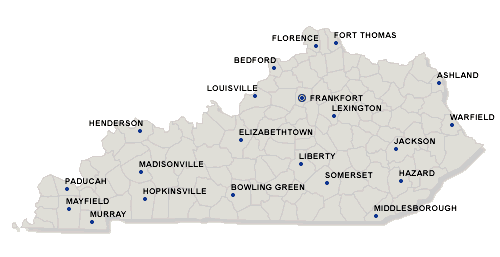 Buy Kentucky Foreclosure Listings
Want to move to Kentucky, but think you cannot afford it? Have an area in mind, but find the prices too high? Why not check out the latest Kentucky foreclosure listings online. Here you will find listings for cities all over Kentucky. Three of the top favorites are Louisville, Lexington and Frankfort. If you look into investing into a property, rather go for a foreclosed home. You can save up to 40% on the value of the house going this route. Banks are forced to sell these homes at less than their value in order to retrieve some monies lost on bad loans.
You can get bank foreclosures in Kentucky from between $39,000 and $150,500.00, Lexington from $87,900.00 to $1,249,000.00 and Frankfort for between $121,900 and $316,500.00. Louisville is home to many attractions, including the Louisville Slugger Museum, Louisville Science Centre and the Belle of Louisville. If you are mad about horses, then you need to move to Lexington. Here they call themselves 'the Horse Capitol of the World'. If you are more artistically inclined, then Frankfort is for you as Downtown Frankfort offers the art that you could wish for.
No matter where in Kentucky you want to settle in, there is always something for everyone.
Foreclosure1.com the #1 foreclosure listings service provides the most up-to-date Kentucky foreclosure listings, government foreclosures and Kentucky bank foreclosures. Try our foreclosure list service and find the best Kentucky foreclosures. Join Now for the latest Kentucky foreclosure listings.