Click On a County Below To Begin Your Search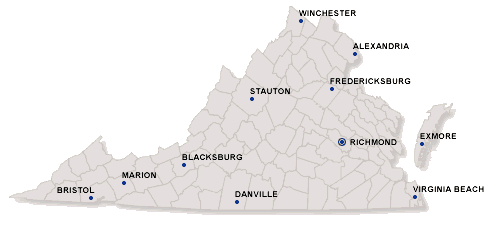 Buy Virginia Foreclosure Listings
Homes that show up on Virginia foreclosure listings in Virginia are very few indeed. Danville has only about 500 foreclosure listings, as does Manassas. Virginia is located on the Chesapeake Bay and has a total of six states for its neighbors. Halfway between Florida and New York is considered the gateway to the south. There are many reasons that buying from foreclosure listings and relocating to Virginia is a great Idea. The famous Shenandoah Valley, which is nestled snuggly between the Blue Ridge Mountains and the Allegheny.
A big reason for the rise in bank foreclosures in Virginia is the ease with which a lender can get a judgement. Small cities like Danville, located on the southern border with a population of just over 44,000, and Woodbridge located just a few miles north of Quantico (famous as the FBI training head quarters), are seeing more and more the effects of a downhill economy. Homes are being placed on foreclosure listings very quickly. A lot of this is because lenders in the state of Virginia can by pass the hurdle of a judicial foreclosure as most mortgages have a power of sale clause written into them.
Foreclosure1.com the #1 foreclosure listings service provides the most up-to-date Virginia foreclosure listings, government foreclosures and Virginia bank foreclosures. Try our foreclosure list service and find the best Virginia foreclosures. Join Now for the latest Virginia foreclosure listings.