Click On a County Below To Begin Your Search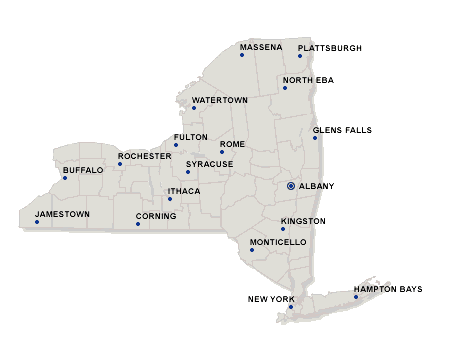 Buy New York Foreclosure Listings
New York has quite a few homes on foreclosure listings. From the Bronx to Staten Island, homes are showing up on the New York foreclosure listings all throughout the metro New York area. The number of homes on foreclosure listings would be staggering for any other state, but in New York these numbers are actually lower this year than previous years. Foreclosure listings in this state are actually down by 15%.
Brooklyn, New York has Museums, theaters, and art galleries. It is the seat of culture in the metro New York area, and yet high numbers on foreclosure listings plagues it to. There are literally thousands of bank foreclosures in Brooklyn. More than 4,602 are listed on RealtyTrac, and this number will keep rising. This number will ensure that a prospective buyer with the cash can get a great deal.
The Bronx, a very high profile borough, has foreclosure listings of 2,000 on just one site, and there are sure to be others. Streets like Inwood Ave and Westchester have homes being auctioned in the $200,000-600,000 range. A home on East 221st street is being auctioned at $110 a square foot. This is truly a buyers market according to the bank foreclosures New York.
Staten Island has fewer homes on Bank foreclosure listings than the other metro New York areas but the auction prices on the ones that are on foreclosure listings will make any house hunter take notice. These homes are going for 50% or less than their market value.
Finally the African American dominated Jamaica is not faring well at all. Although recent years have seen a stark rise in the cultural diversity of this area it is still populated by people on the lower income scale. In this area a lot of homes are on HUD foreclosure listings and they are really about the cheapest price you will find as the government wants them to sell as quickly as possible. House hunting in New York is going to get even better if the economy doesn't improve.
Foreclosure1.com the #1 foreclosure listings service provides the most up-to-date New York foreclosure listings, government foreclosures and New York bank foreclosures. Try our foreclosure list service and find the best New York foreclosures. Join Now for the latest New York foreclosure listings.