Click On a County Below To Begin Your Search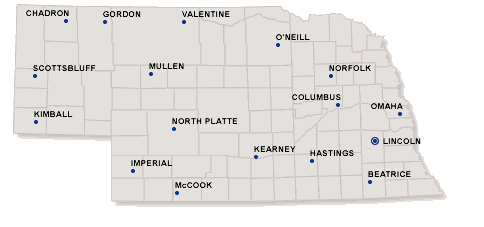 Buy Nebraska Foreclosure Listings
When investing on a property, location is probably one of the factors we should look into. The house size comes in second. Nebraska foreclosure listings stand out from the rest. Most properties in this state have larger property for lesser cost. Omaha foreclosure listings can definitely save you a lot of money if you decide to purchase a home. Other nearby cities like Lincoln and Bellevue are also ideal if you search through bank foreclosures Nebraska. This means saving a lot of money compared to purchasing a home in other parts of the country.
The state's economy and its family friendly environment is the reason why it is so popular. This is seen in the recent population growing rate of Nebraska. The properties usually rate about $67 thousand for an average home and about $307 thousand for exquisite home. A neighborhood can determine the value of the home. Typically it is a good idea to do a research on the home. Most neighborhoods in Nebraska have nearby school and hospital. The next few months, there would be rise in the foreclosure rate of Nebraska. This is a perfect opportunity for any looking for a home in a safe and homey place.
Foreclosure1.com the #1 foreclosure listings service provides the most up-to-date Nebraska foreclosure listings, government foreclosures and Nebraska bank foreclosures. Try our foreclosure list service and find the best Nebraska foreclosures. Join Now for the latest Nebraska foreclosure listings.