Click On a County Below To Begin Your Search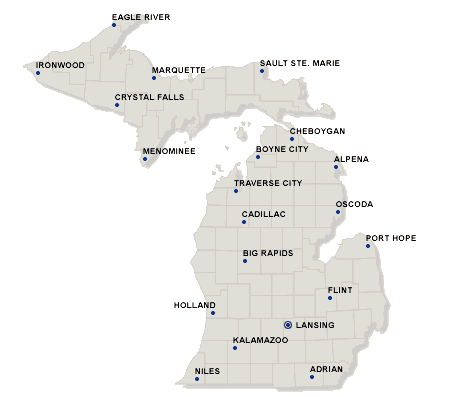 Buy Michigan Foreclosure Listings
Michigan, like many other states, have more homes than ever before on foreclosure listings. Those are bank foreclosure listings as well as HUD/ VA and other government-owned properties. The number of homes on the Michigan foreclosure listings will allow the buyer to purchase many properties at a fraction of their worth. The foreclosure listings in the state of Michigan cover the entire major cities and even the small burgs.
Detroit is one of Michigan's largest cities, home of their baseball and football franchises. It is one of the most heavily populated cities in Michigan at 951,000 people. It is estimated that 78.9% of these are homeowners. Although the estimates for foreclosures are down 1.9% for 2010 there are still plenty of bank foreclosure listings that are auctioning off prime real estate at below market value prices. There are many reasons to consider making Detroit your home. Do not let the news reports fool you: it is not all that bad in Detroit. The Detroit Zoo, located in the Detroit metro area, has attractions for the whole family year-round, and there are theaters in downtown Detroit; and do not forget about the awesome Motown museum.
Warren Michigan is a Detroit suburb and has foreclosure listings for as little as $42,000 for a 2/2 unit. If big cities are not to your liking buying in Warren will put you as close to the action as you can get without actually being there. Southfield has a lot of bank foreclosure listings to be such a small place and again here to you cannot go wrong in perusing the foreclosure listings. Sterling Heights and Redford have listings that will allow you to live in comfort and still be close to the hub.
Investing in the "Great Lake State" at this period in time is a win-win situation. With the savings and atmosphere how could you not consider making Michigan your home?
Foreclosure1.com the #1 foreclosure listings service provides the most up-to-date Michigan foreclosure listings, government foreclosures and Michigan bank foreclosures. Try our foreclosure list service and find the best Michigan foreclosures. Join Now for the latest Michigan foreclosure listings.