Click On a County Below To Begin Your Search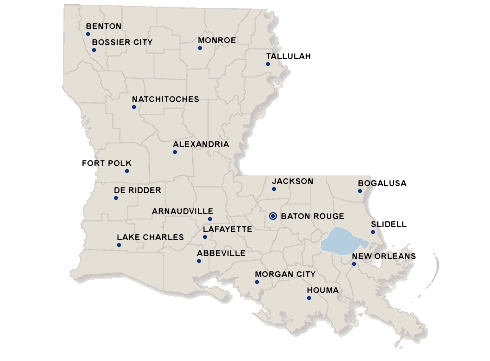 Buy Louisiana Foreclosure Listings
What place conjures up images of Jambalaya and Gumbo? Where if you hear the name, all you can think of is swamps and old Voodoo magic? Louisiana, of course, but there is more to this place than that. People who are looking for a slower pace of life owe it to themselves to have a look at the Louisiana foreclosure listings to find their dream homes at a price they can afford. Deciding to buy a home is a frightening thought, and the price plays a major role. There is a way of buying a home at a reduced price which is to simply go online and you will find bank foreclosed homes for sale in Louisiana.
Many sites offer a comprehensive list of bank foreclosures in Louisiana in cities such as Shreveport, Baton Rouge and West Monroe with prices to suit any budget. Shreveport is the third largest city in Louisiana. Homes can vary between $8,100.00 and $57,000.00. Baton Rouge, which means red stick, is the capitol city of Louisiana and is the second largest city in the state. Houses will vary in cost from $38,000.00 to $70,000.00. West Monroe, which is located on the Ouachita River, is considered to one part of the 'twin cities', Monroe being the second half. Homes will set you back about $22,050.00 to $219,900.00.
Foreclosure1.com the #1 foreclosure listings service provides the most up-to-date Louisiana foreclosure listings, government foreclosures and Louisiana bank foreclosures. Try our foreclosure list service and find the best Louisiana foreclosures. Join Now for the latest Louisiana foreclosure listings.