Click On a County Below To Begin Your Search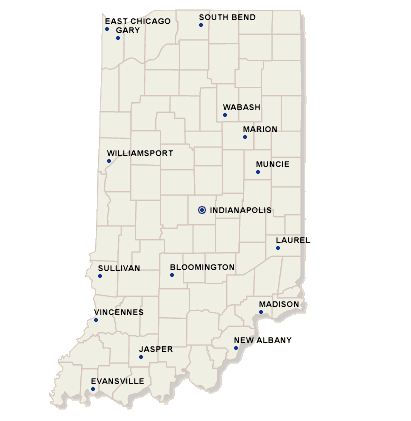 Buy Indiana Foreclosure Listings
Indiana foreclosure listings for properties will be getting higher, and that makes them an even greater investment choice. There are thousands of homes on bank foreclosure listings in the "Hoosier" state. There is HUD and other government owned homes for your consideration. The time is ripe to make that move to Indiana. This is the heart of the Midwest. Living here you will get to experience all four seasons in all their glory.
The city of Indianapolis has foreclosure listings well over 16,000. There are beautiful structures with front and back yards for children to play in, going well below market value. One home, for instance, listed with RealtyTrac is a two-story 2 1/2 bath with a full porch and yard for $16,900 this is over on Temple Avenue. There is plenty more just as great a bargain in other areas of town. Indianapolis has a great quality of life. It is also one of the great places to raise a family. Consider Hamilton County when you decide to relocate or just invest in some property. The bank foreclosures in Indiana are chockfull of prime real estate for pennies on the dollar.
Elkhart is a family-oriented town with a population of just over 52,000 people. The median home in Elkhart costs around $100,000. The cost of living is almost 20% less than the national average; these three factors alone would be enough to convince you that it is a city to really consider. The foreclosure listings are meager compared to other Indiana cities, but the bargains are not.
Consider also Fort Wayne or Anderson; both are rated high in bank foreclosures in Indiana. The great thing is that these are great places to contemplate a future as the employment outlook is much better than the rest of the country. Indiana has a lot to offer and with new homes' prices being what they are, there is good reason to consider using Indiana foreclosure listings to do your house hunting.
Foreclosure1.com the #1 foreclosure listings service provides the most up-to-date Indiana foreclosure listings, government foreclosures and Indiana bank foreclosures. Try our foreclosure list service and find the best Indiana foreclosures. Join Now for the latest Indiana foreclosure listings.