Click On a County Below To Begin Your Search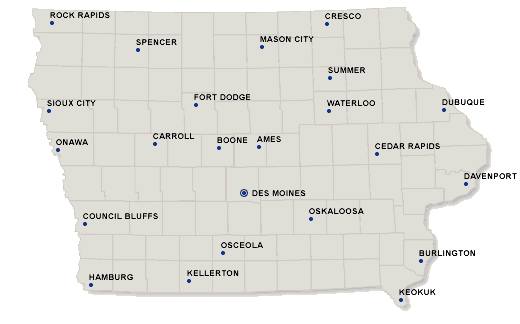 Buy Iowa Foreclosure Listings
In this day and age, bank foreclosures in Iowa are becoming more and more common. With home owners unable to repay their loans, they are forced to claim bankruptcy and have their houses reprocessed. The banks then resell them in order to make some of their lost money back. In a comparison, you can save up to 35%.
Iowa foreclosure listings are readily available online. Some good cities to look into are Des Moines, Sioux City and Council Bluffs. All of these have their good points and you would not be disappointed in investing your money in any of these cities. For example, Des Moines, the capitol city, houses go for between $29,000.00 and $110,000.00. Some of the main attractions of this city include the Blank Park Zoo. Sioux City on the other hand, is known for the Orpheum Theatre. The houses are priced between $9,900.00 and $130,000.00. Houses in the Council Bluffs area are priced between $19,000.00 and $134,900.00. Here your family will enjoy the Union Pacific Railroad Museum.
Looking at bank foreclosures is a great way to see what houses is on the market and where they are located. Plus, you get to save money.
Foreclosure1.com the #1 foreclosure listings service provides the most up-to-date Iowa foreclosure listings, government foreclosures and Iowa bank foreclosures. Try our foreclosure list service and find the best Iowa foreclosures. Join Now for the latest Iowa foreclosure listings.