Click On a County Below To Begin Your Search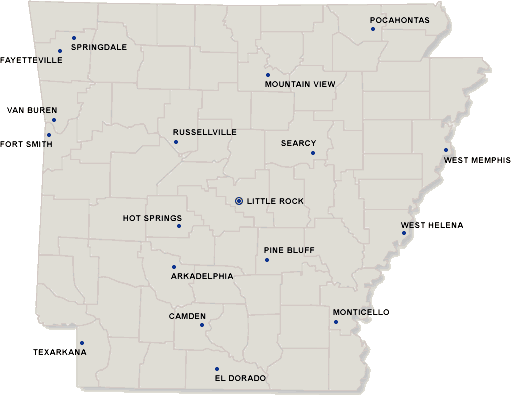 Buy Arkansas Foreclosure Listings
There were 1,974 new bank foreclosures in Arkansas in the last month. This pushes the total to 10,982 Arkansas foreclosure listings at an average sales price of $128,936, with the number of listings moving slightly upward over the last six months. The capital and largest city, Little Rock, has the most active foreclosure market with roughly 10% of the state's new and existing bank foreclosures and 1 in every 490 housing units getting foreclosure notices in July. The sales prices in central Arkansas have held steady over the last year with slight neighborhood variations.
Away from central Arkansas in the Northwest, the new bank foreclosures in Fort Smith trended back down in July, following a small uptick in June, to continue a six-month move downward. There are a total of 314 foreclosure listings at present. A rich suburb of Fort Smith throws off the average listing and selling prices and has few foreclosure listings. The main area of interest is western Fort Smith with listing prices around $100,000.
In Northeast Arkansas, Jonesboro bank foreclosures are on the rise and foreclosure auction notices jumped from 16 to 48 from June to July, in addition to a jump in repossessions. While a smaller market, the activity in Jonesboro is similar to that in Little Rock, however with listing prices averaging around $190,000.
Foreclosure1.com the #1 foreclosure listings service provides the most up-to-date Arkansas foreclosure listings, government foreclosures and Arkansas bank foreclosures. Try our foreclosure list service and find the best Arkansas foreclosures. Join Now for the latest Arkansas foreclosure listings.