Veterans Affairs Participates in National Foreclosure Settlement
The Veterans Affairs department announced participation in the biggest settlement relating to foreclosures with the mortgage industry. Eric K. Shinseki the Secretary of V.A. said, "Through this historic settlement, V.A. has ensured that Veterans, Service members and National Guard and Reserve members will continue to receive every possible opportunity to retain their homes".
The Veterans Affairs department joined with Justice Department, team of attorneys general of state and other agencies of the federal government in this historic settlement with five mega mortgage servicers.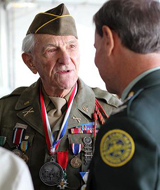 The banks have agreed to abide by the terms of the settlement involving $25 billion that addresses previous abuses regarding servicing of loans and foreclosure processing. It gives noticeable relief to the troubled borrowers and sets up new regulations for future protection of house owners.
Apart from cash payments so as to skirt lawsuits the banks have also agreed to reduce principal on loans and interest rates as well as forbearance when the borrower is unemployed.
The agreement highlights protections available to the military members under Servicemembers Civil Relief Act. Extra help will be given when the service members are compelled to sell off their houses incurring losses because or reassignment to other locations.
Allison A. Hickey, the under secretary for Benefits said Veterans Affairs said the department would keep up monitoring lenders and mortgage servicers to see that the military members continue to enjoy the advantages of the loan programmes of V.A. For instance they do not have to make down payments and they get assistance if they face difficulties in making mortgage payments.
Assistance has always been given by V.A. to the military members who face trouble in being current on their mortgage payments – whether they hold a loan guarantee from V.A. or not. Depending on circumstances the loan specialists of the department have the right to intervene on behalf of the military member for seeking options (plans for repayment, forbearances as well as modification of loans) that will prevent loss of the houses.
For help the veterans and military members can seek assistance through a toll free number.
Since its inception in 1944, the loan guarantee programme has provided this help to over 19.4 million houses on loans totaling to $1.18 trillion. More than 72,000 or 83% of defaulting veterans were helped to avoid foreclosure in Fiscal Year 2011 – the figure being 10% higher than Fiscal Year 2010.
For the previous 14 quarters the rate of foreclosure or delinquency on V.A. guaranteed loans was the lowest as compared with all other types of loans as per Mortgage Bankers Association.
Photo by North Charleston
Related Posts Leave a Reply